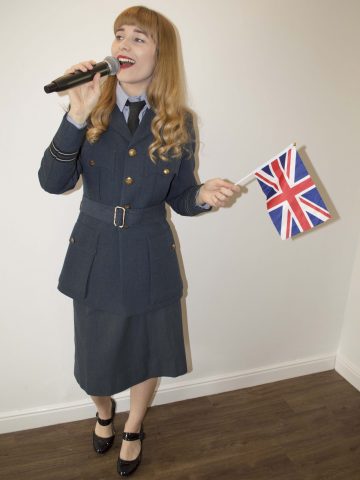 Melissa's 1940s show includes popular sing-along-songs from WW2 including hits from Vera Lynn, The Andrews Sisters, Ella Fitzgerald and many other popular artists from this era. She also dresses in 1940s attire to suit the event and always likes to encourage the audience to join in!
This is one of Melissa's most popular shows and it is suitable for almost any occasion including: care homes, re-enactment events, vintage car shows, vintage fairs and festivals, Birthday parties and many more!
 Melissa is fully self contained with her own high quality Bose PA system and dynamic lighting. She has public liability insurance cover and her equipment is PAT tested.
Melissa Hollick Wartime Set At Birmingham Airport 2019
1940s Setlist
Don't Sit Under The Apple Tree – The Andrews Sisters
Button Up Your Overcoat – Ruth Etting
Cheek To Cheek – Ella Fitzgerald
Lili Marlene – Vera Lynn
Wish Me Luck As You Wave Me Goodbye – Gracie Fields
Land Of Hope And Glory – Vera Lynn
A Tisket, A Tasket – Ella Fitzgerald
It's A Long Way To Tipparary – Various
This Little Light Of Mine – Various
Daisy Bell – Various
A Nightingale Sang In Berkeley Square – Vera Lynn
They'll Always Be An England – Vera Lynn
Bless Em All/ Hang Out The Washing/ Kiss Me Goodnight – Vera Lynn Medley
Beside The Seaside – Various
The Sun Has Got His Hat On – Various
Blue Moon – Ella Fitzgerald
Dream A Little Dream Of Me – Ella Fitzgerald
In The Mood – The Andrews Sisters
When I'm Cleaning Windows – George Formby
Oh, What A Beautiful Mornin' – Oklahoma!
High Hopes – Frank Sinatra
I Wanna Be Loved By You – Various
You Are My Sunshine – Mitch Miller
Rum And Coca Cola – The Andrews Sisters
Putting On The Ritz – Ella Fitzgerald
The Anniversary Waltz – Vera Lynn
I've Been Working On The Railroad – Various
Summertime – Ella Fitzgerald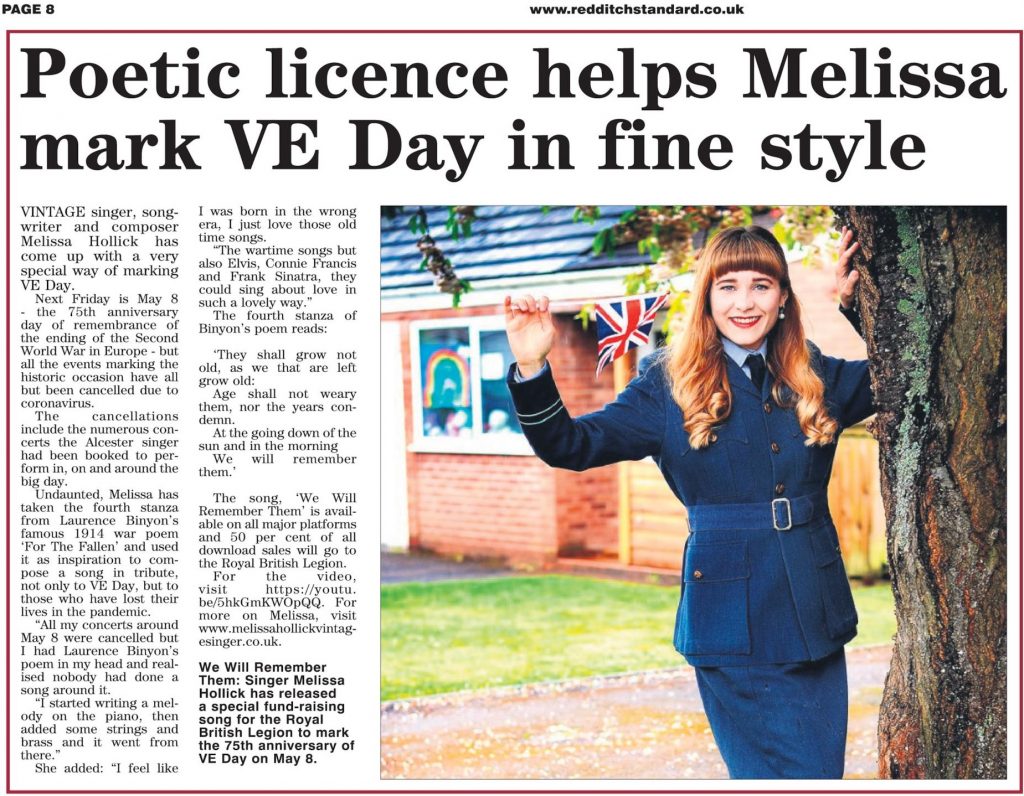 Contact Melissa today!